MPHA 2023 Annual Conference
Cross Insurance Center, 515 Main Street Bangor, ME 04401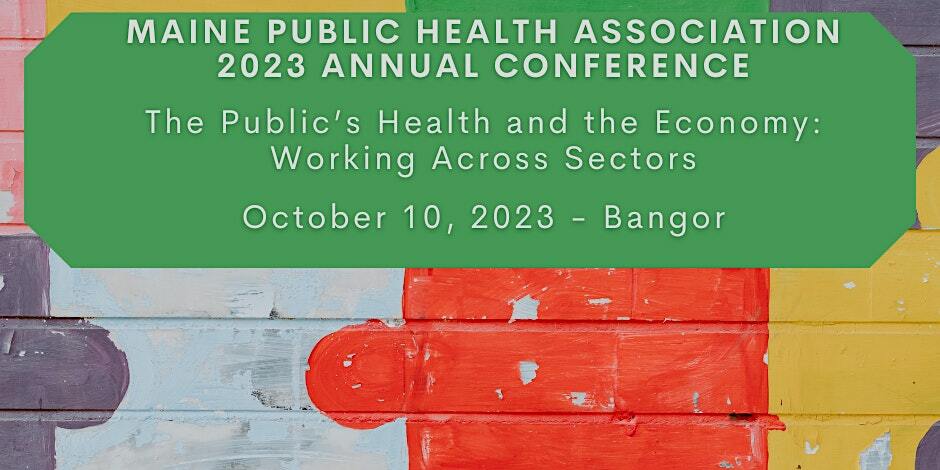 Thank you to everyone who joined us for Maine Public Health Association's 2023 Annual Conference, "The Public's Health and the Economy: Working Across Sectors," which was held on Tuesday, October 10th, at the Cross Insurance Center in Bangor.
The Conference is dedicated to showcasing a broad array of programs, projects, and initiatives – formal and informal – that seek to address multiple factors impacting individual and community health and are connected, directly or indirectly, to economic prosperity.
Registration Information
MPHA members receive a discounted registration rate! We encourage you to join today to receive this benefit and many others! You can learn more about membership at our website: www.mainepublichealth.org. It is a cost savings to join MPHA and register at the member rate, than to pay the non-member rate - so join today!
If you are a member, you may access your discounted registration link by logging in to your member profile and clicking "Upcoming Events." Select the 2023 Annual Conference, and you will then be redirected to EventBrite, and your registration discount will be automatically applied. Your membership must be "Active" to receive the discount (so please be sure to renew first if your membership has expired). If this is the first time you've logged in to your member profile, you will need to enter your email and request a password reset link. If you have a Sustaining or Alliance organizational membership, members will automatically receive the additional discount.
The Non-Member registration fee is $190 plus processing fees.
Member registration rates are:
Individual members: $100 plus processing fees
Alliance members: $90 plus processing fees
Sustaining members: $80 plus processing fees
Early Career, Student and Retiree members: $60 plus processing fees
Please note: EventBrite charges a service fee for invoices (even check payments), and a service and processing fee for credit card payments. If these fees are prohibitive, please email info@mainepublichealth.org and we will invoice you separately.
Thank You To Our Exhibitors
AdCare Educational Institute of Maine • American Lung Association • AstraZeneca • Bangor Public Health and Community Services • BeSMART for Kids • City of Portland, Health and Human Services Department, Portland Public Health Division • Community Health Options • GSK Vaccines • MaineGeneral Health • Maine Cancer Foundation • Maine Community Health Worker Initiative • Maine Families for Vaccines • MaineHealth • MaineTransNet • MCD Global Health • Network of the National Library of Medicine • New England Public Health Training Center • Partnerships for Health • University of Southern Maine • Wabanaki Public Health and Wellness • Western Maine Community Action
* Italics indicate a Sustaining or Alliance organizational member
Thank You to Our 2023 Annual Meeting Sponsors!
Coffee Break Sponsors
Breastfeeding Room Sponsors